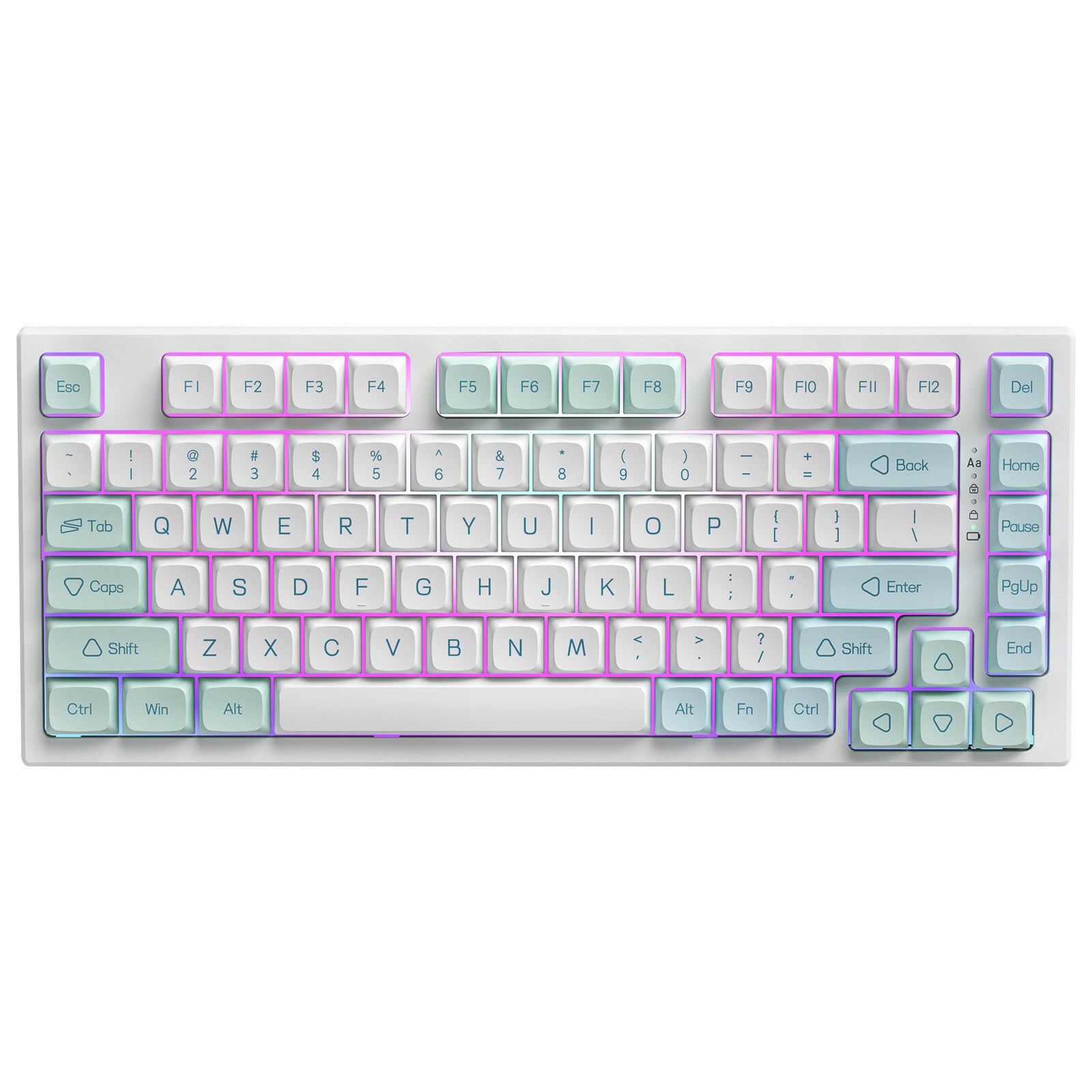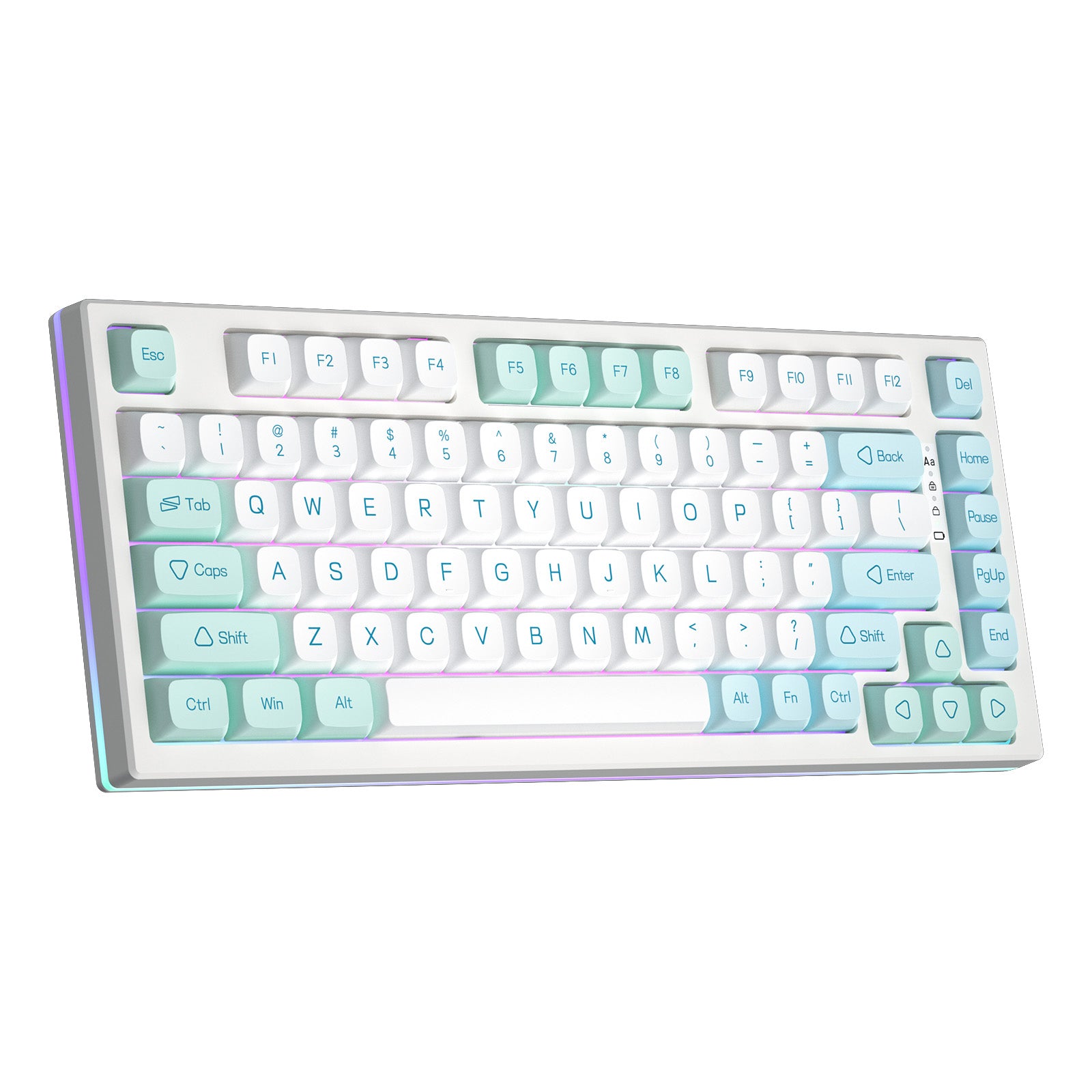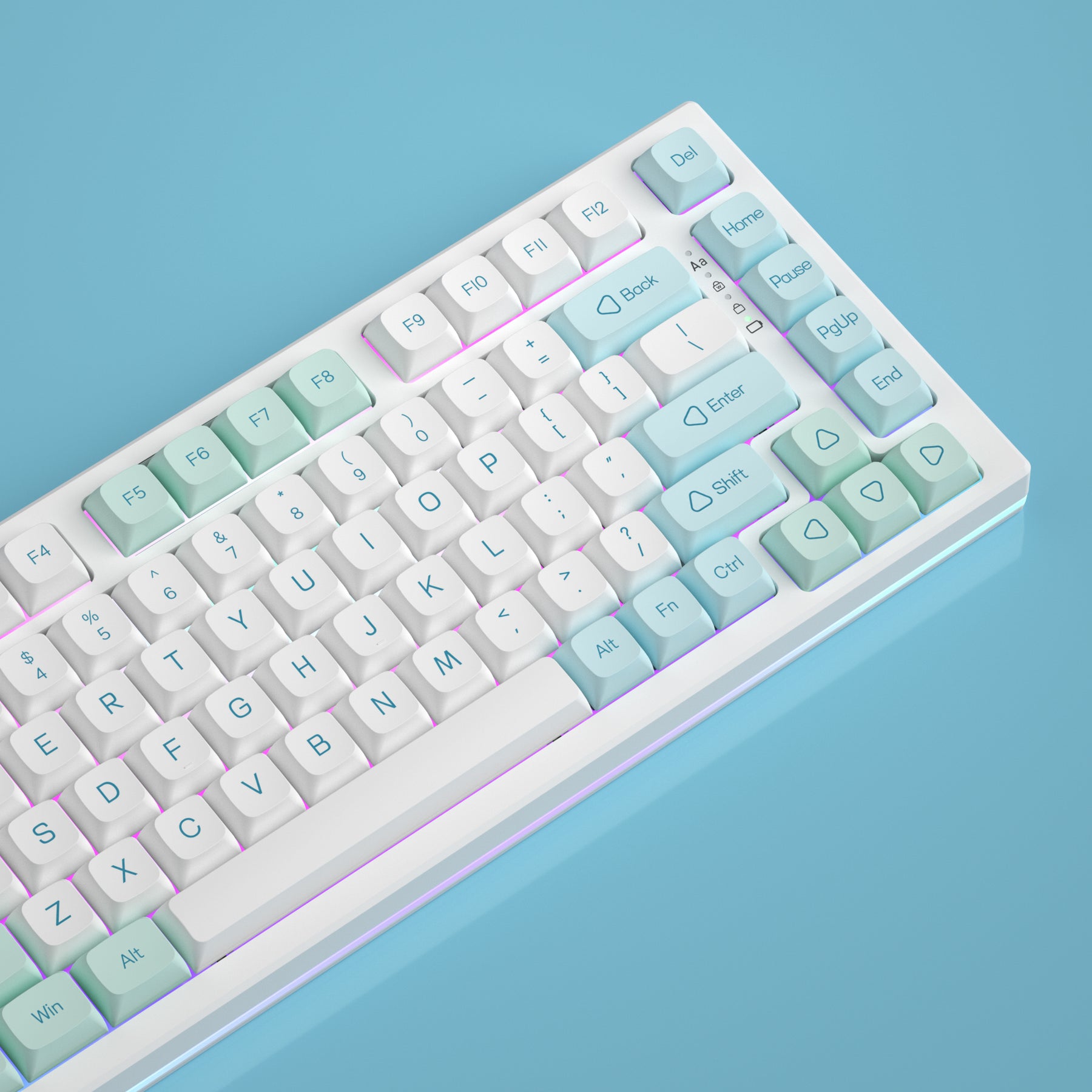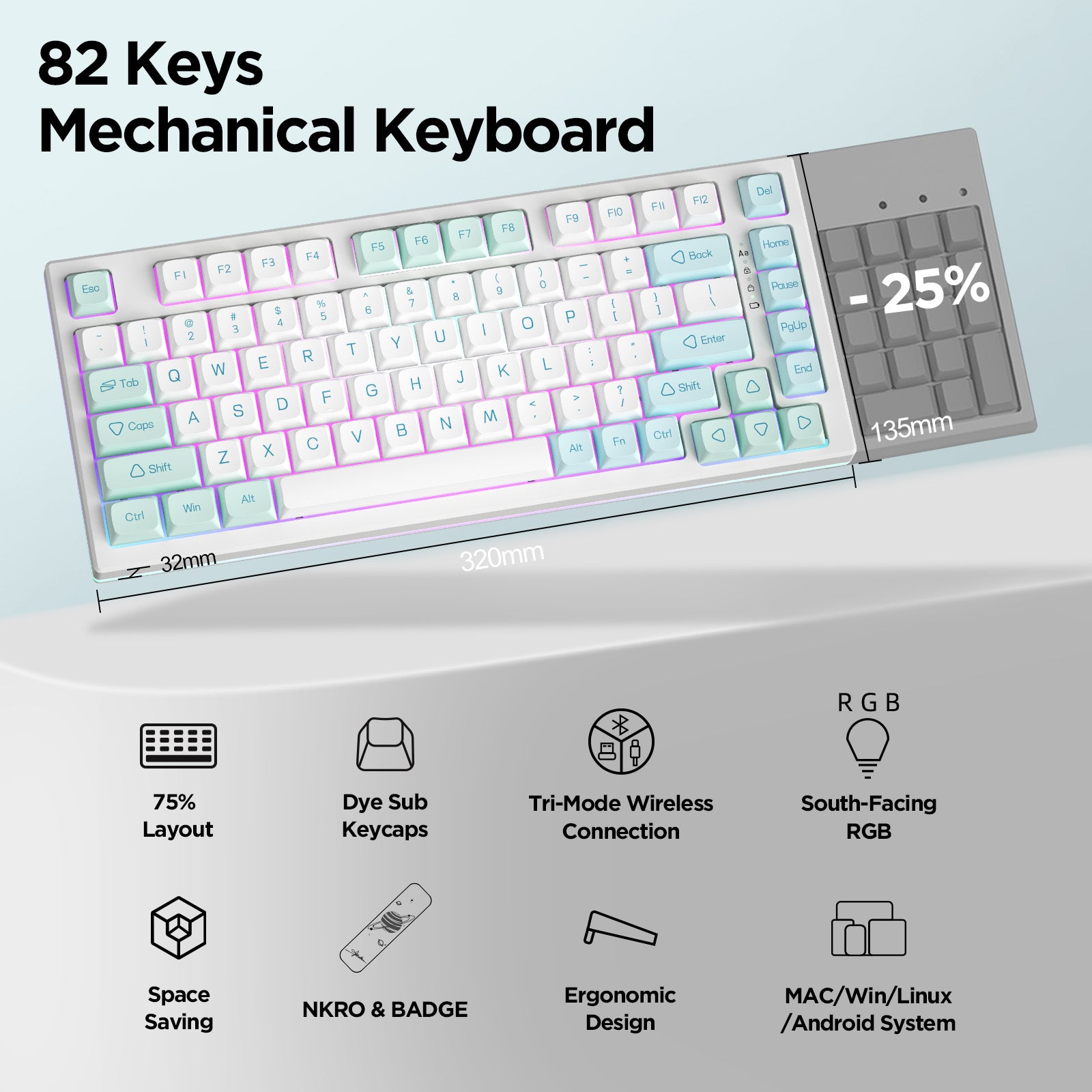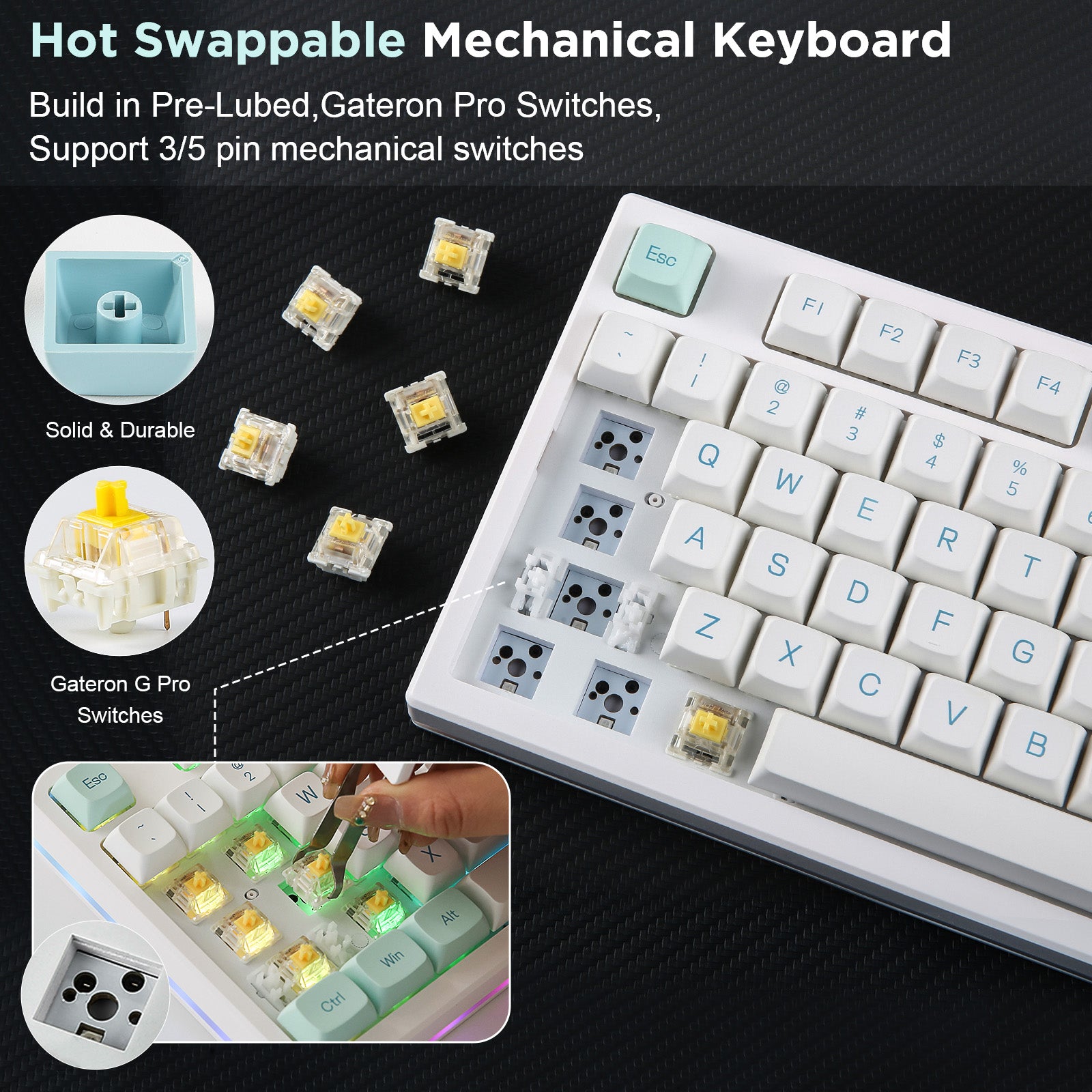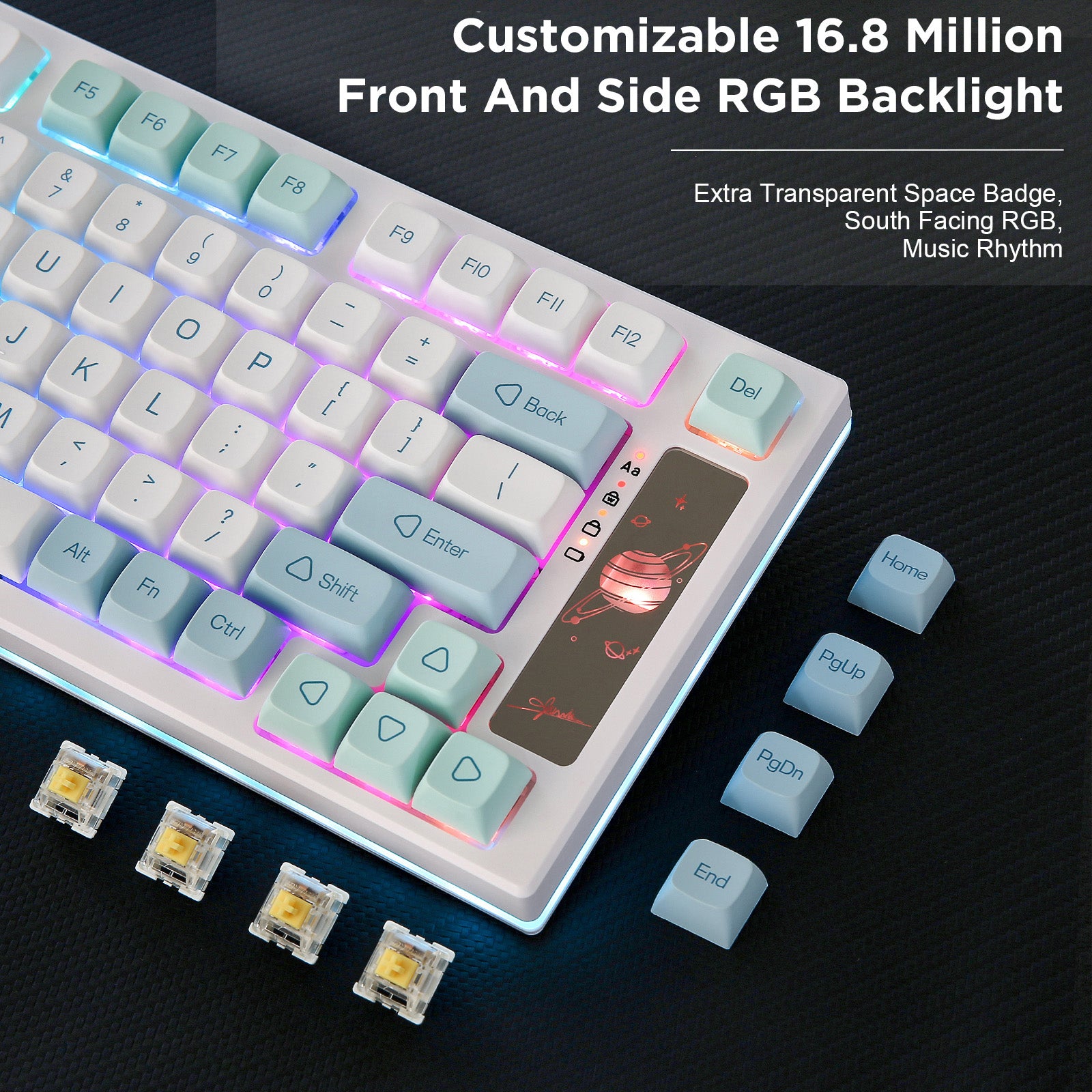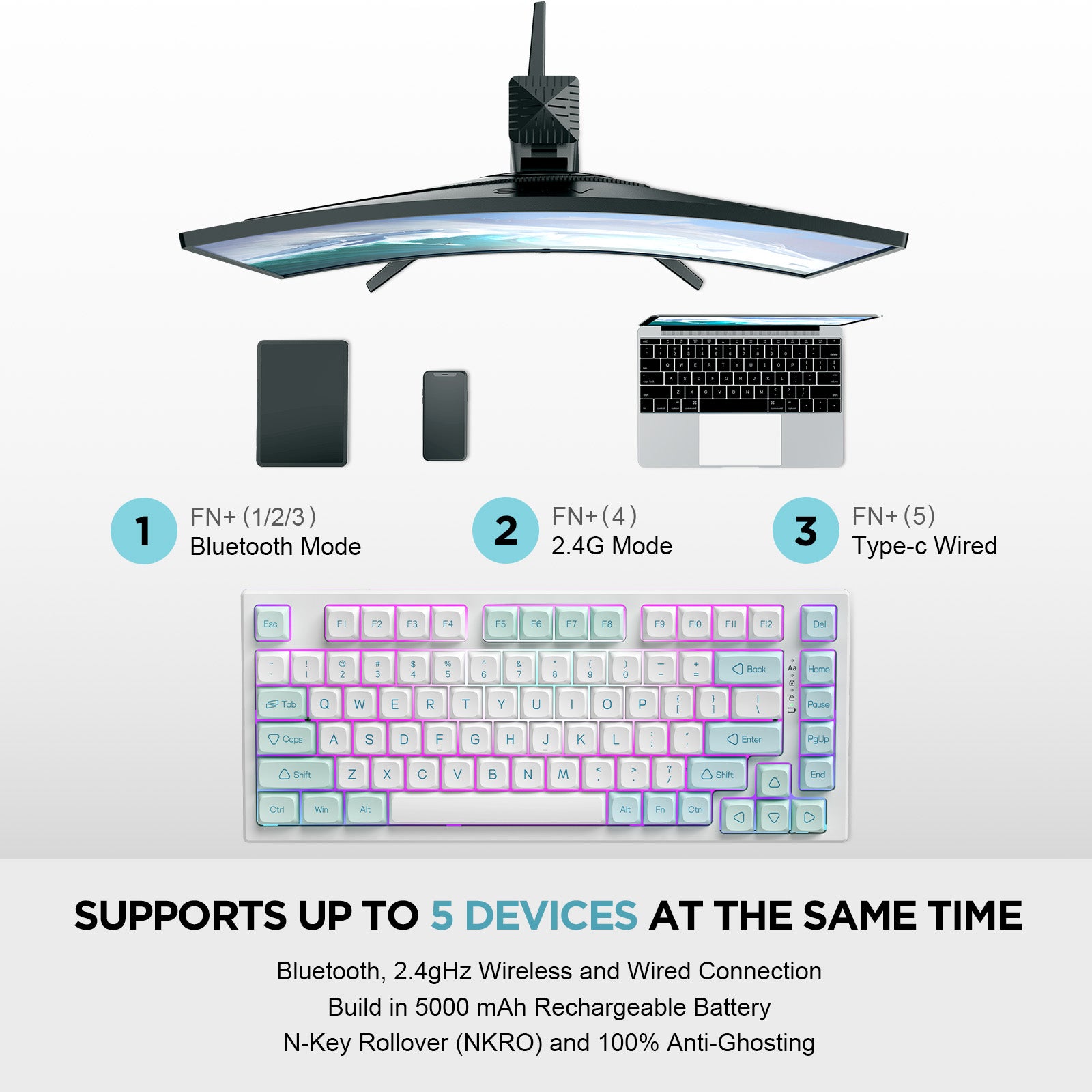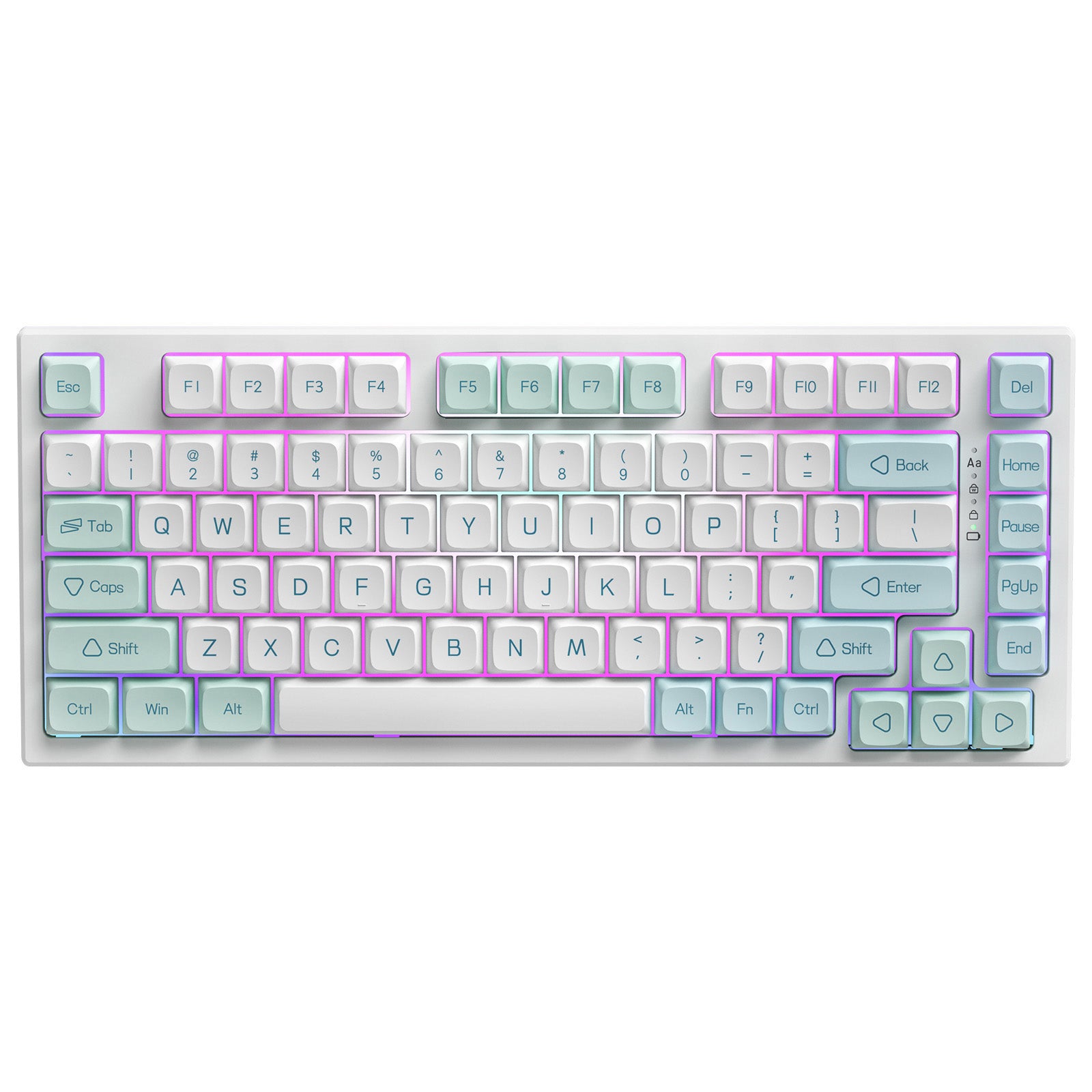 YUNZII YZ75 Pro Mint Wireless Mechanical Keyboard
Switch:
Gateron G Pro Yellow

<Specifications>
Product: YUNZII YZ75
Layout: 75% Layout, 82-Key
RGB: South facing
Color Choices: Pink, White, Black, Mint, Blue
Switch Choices: Gateron G Pro Yellow, Gateron G Pro Red, Gateron G Pro Black, Gateron G Pro Brown
Structure: Top Mounted
Battery: 5000mAhConnection: Wired Type-C/Bluetooth/2.4G Wireless
Keycaps: 5-Side Dye Sub PBT Cherry Profile Keycaps/Double-shot PBT XDA Profile Keycaps/Double-shot PBT SA Profile Keycaps
Hot Swappable: YES
NKRO: YES
【75% 82 Keys Mechanical Keyboard with Gateron G Pro Switches】
The YZ75 is 75% layout 82-key mechanical gaming keyboard. Come with a acrylic metal badge, the keyboard offers both functional and aesthetic. The keyboard takes Gateron G Pro switch and pre-lubed stabilizers. Build in double layers sound absorbing foams give the keyboard premium typing experience. The YUNZII YZ75 is a 75% mechanical keyboard that is fully customizable, geared for mechanical keyboard enthusiasts.
【 Multi-Device and Tri-Mode Wireless Connectivity: Bluetooth 5.0&2.4G&Type-C Cable】
Equipped with a 5000 mAh capacity battery, YUNZII YZ75 keyboard support Bluetooth, 2.4G wireless and wired connection. Compatible with Laptop, iPad, IOS, Windows, Mac or Android. No fussy connection process, the wireless connection is quick and stable. Fn+Space can check the battery capacity anytime. 2.4G wireless dongle and wired cable are included.
【South-facing RGB and RGB Backlights on Front and Side】
To maintain premium RGB backlights on your desk space, YUNZII YZ75 keyboard has multiple default RGBs on the front and 360 ° side. Users can easily change the RGBs by shortcut keys and custom software. The RGB keyboard takes south-facing LEDs, which better illuminate the keyboard when you're using it in the dark. The gift acrylic universe metal badge brings more fun and aesthetics on YZ75.
【3 Pin/5 Pin Hot Swappable Gaming Keyboard】
As a customizable mechanical keyboard, YUNZII YZ75 build in a hot swappable PCB that support both 3 or 5 pins mechanical switches. Hot swappable socket provides convenience for those who like to change switches for a different typing feel.
【Double Shot PBT Keycaps XDA Profile】
The YZ75 mint takes XDA profile. Designed with the popular XDA profile, this keycaps are pretty good for gaming. Also, the consistent height and look between rows as well as the sound is liked by many with the lowest pitch sound on this list due to there being little room within the caps.
Do not buy
I have had both an original and a replacement for this keyboard and both have had problems. The first just quit, the second had some kind of short. Not worth it.
In my video you see I try to push the caps lock, change the background, change the connection. Nothing works. Randomly shuts itself off
Has trouble Charging and Can't use the Software to control LED
It's a super cute Keyboard! I just have issues charging it often (I have to smack it on the backside a lot to get it to charge) The cord it came with also doesn't work, and I can't use the software to control the LED on it because it doesn't detect the keyboard unfortunately. I'm worried one day soon it will just stop charging and I'll need a new keyboard.
Worth it
I have just gotten my keyboard and chosen the gateron red switches and they`re so smooth and lovely. The Keyboard is a little heavier than I imagined it to be but it sounds amazing. I did take off one star because it too a little longer than how long it was supposed to but it was definitely worth the wait. Definitely worth the purchase, and recommended to first time keyboard buyers
Best keyboard ever
This was actually my first mechanical keyboard and firstly, it sounds great, comes with a switch and key cap puller and extra switch and a boba key chain. Mine came with a boba keychain that's adorable.
Shipping took about 11 days which was earlier than I was expecting. A good deal and definitely 5 stars for this.
YUNZII YZ75 Mint Wireless Mechanical Keyboard
Let customers speak for us
Shipping
Yes, we ship all over the world. For orders total amount over $45, we offer free standard worldwide shipping. We also have expedited shipping.
It depends on where you are. We normally ship the package in 1-2 business days.
For the pre order shipping, the shipping time is different.
The free worldwide standard shipment normally take 10-20 business days to arrive.
The expedited shipping normally takes 5-10 business days.
Delivery details will be provided in your confirmation email.
Other
You can contact us through our contact page! Chat with us!
If we haven't repiled in time, please send us email:support@yunzii.com
We will always be happy to assist you.