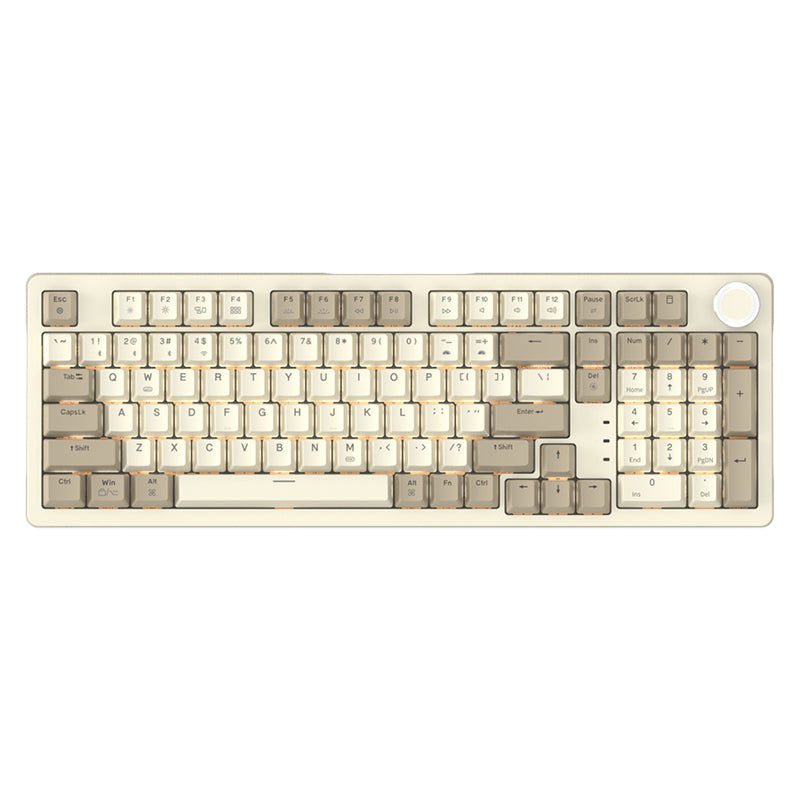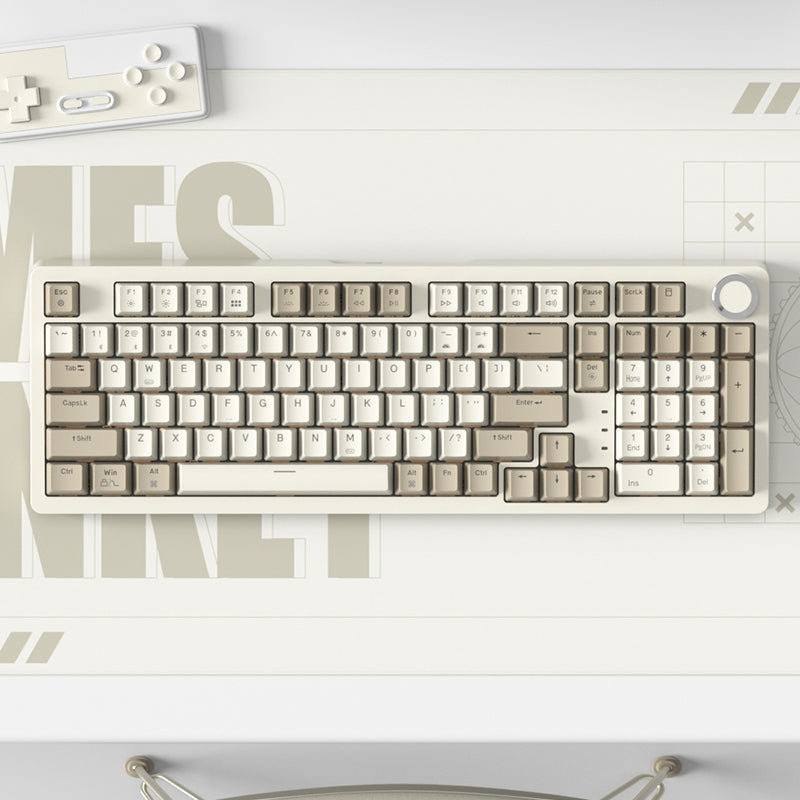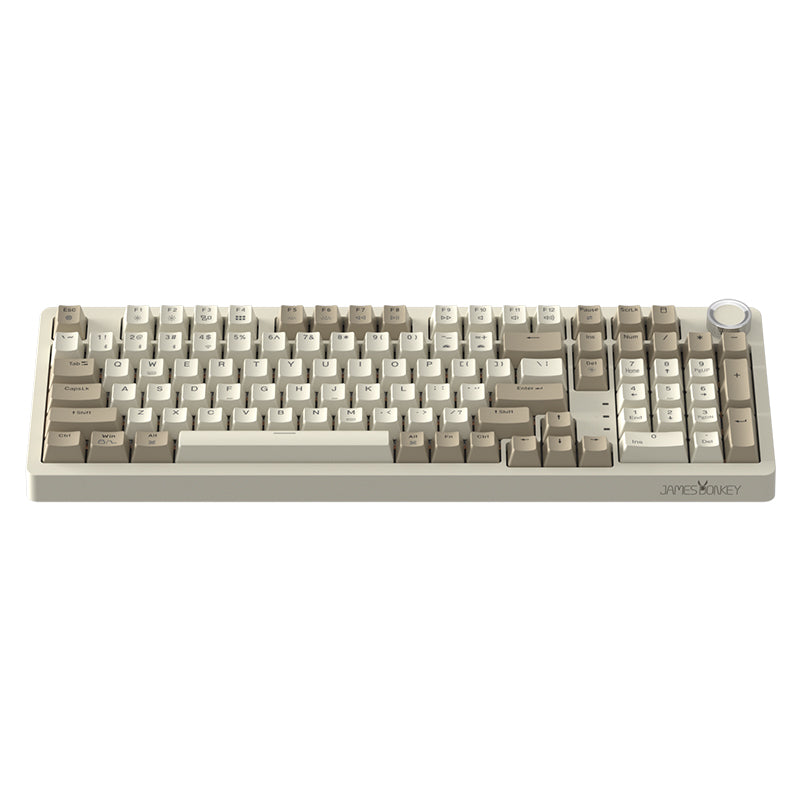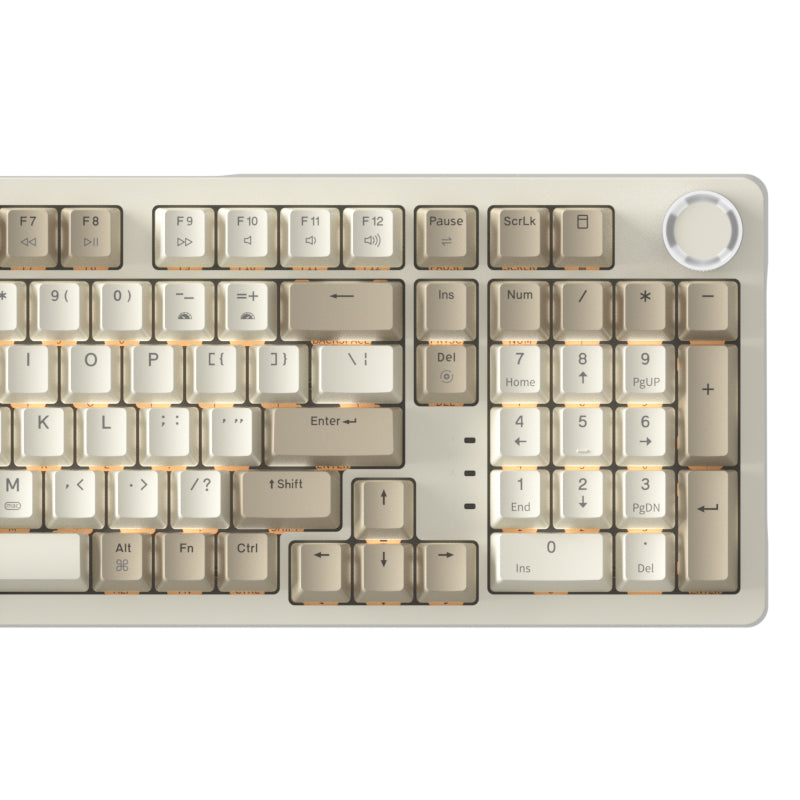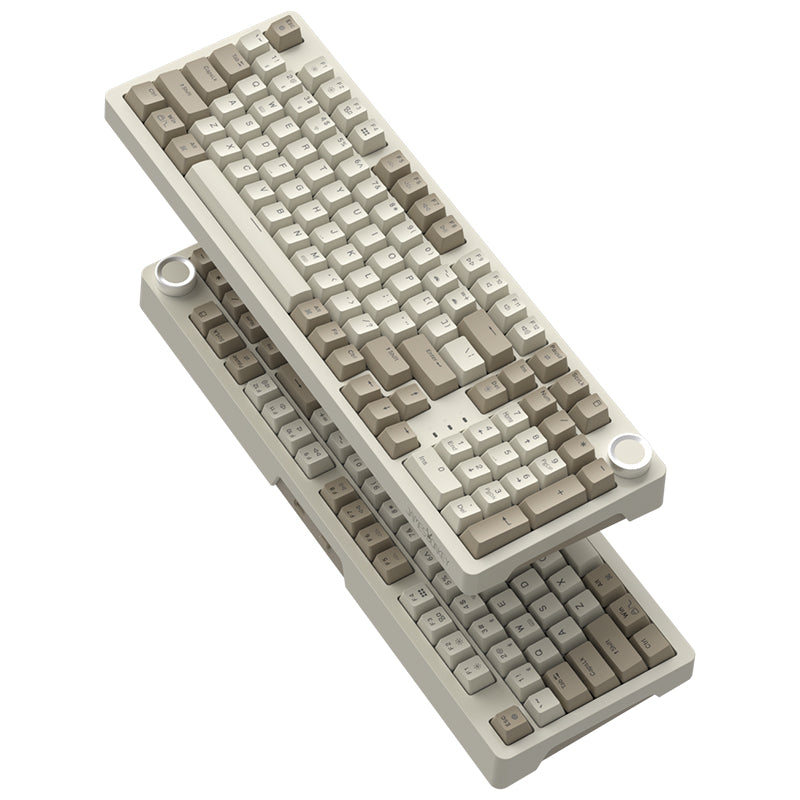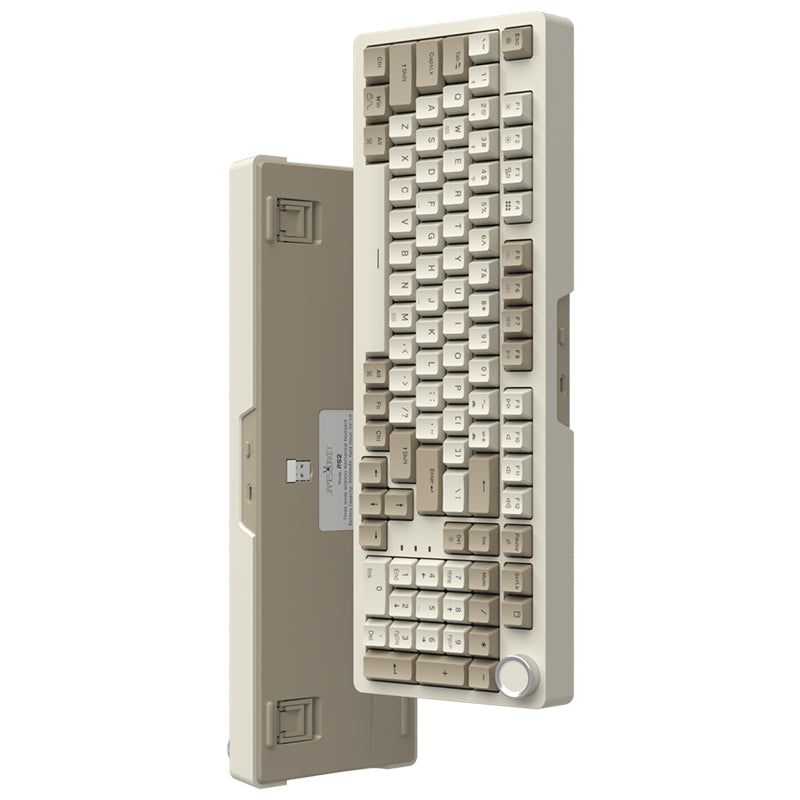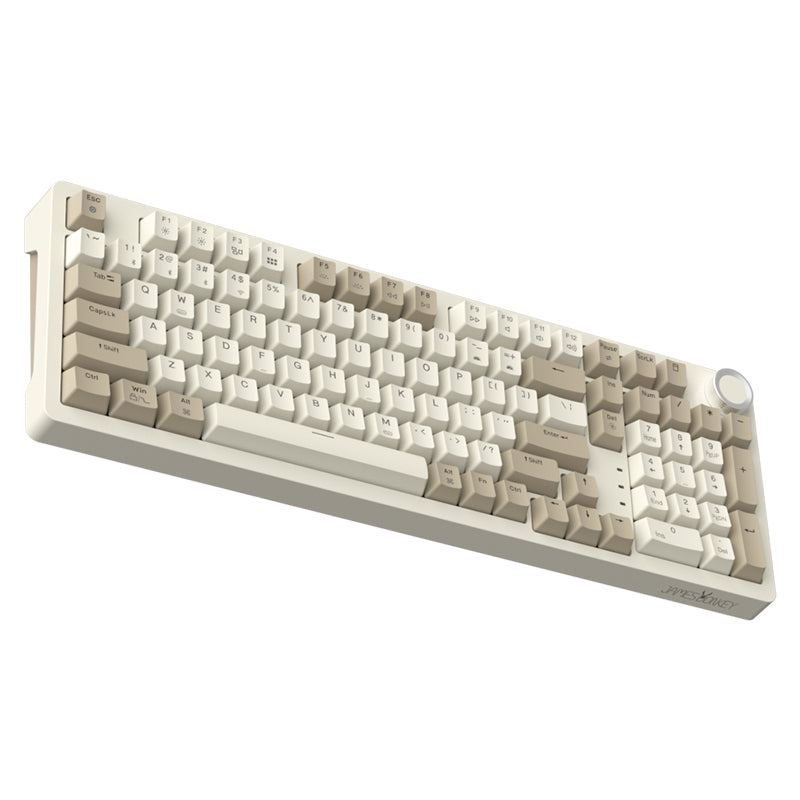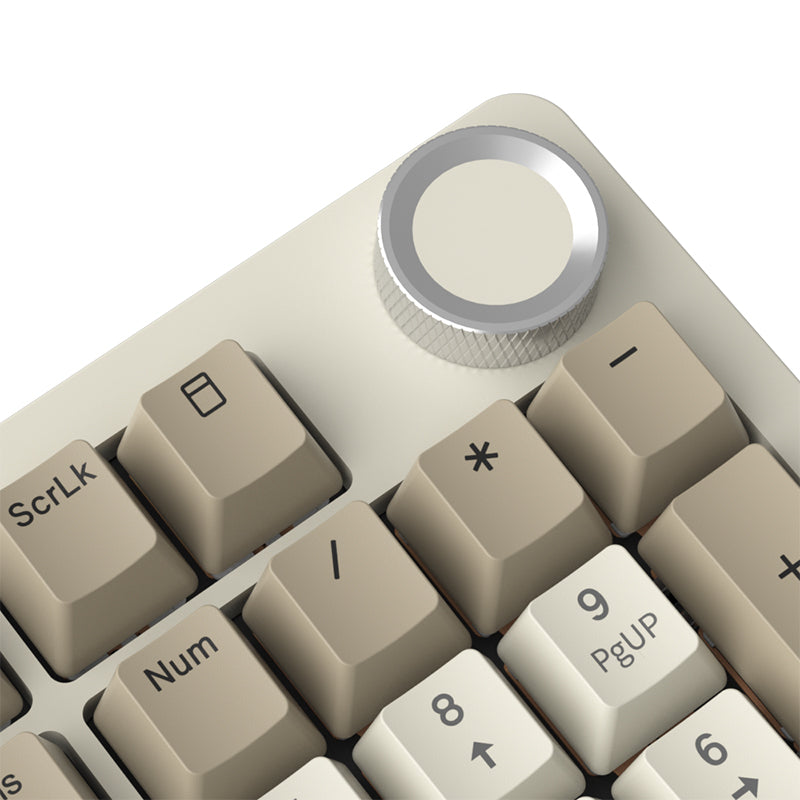 YUNZII x JAMESDONKEY RS2 Wireless Gasket Mechanical Keyboard - Beige
Switch:
Gateron G Pro Brown Switch
Features
Shockproof Gasket Pro Design.
Customized 99-key layout.
Triple connectivity modes.
Multimedia function knob.
Hot-swappable design.
Full-key conflict-free operation.
Double shot injection molded PBT OEM keycaps.
Gateron G Pro mechanical switches.
Ergonomic design.
Supports both Mac and Windows systems with seamless switching.
Bright white backlight.
3000mAh high-capacity battery.
Technical Specifications
No. Of Keys: 99.
Color: Beige.
Structure: Gasket Mounted.
Material: ABS+PC Chassis.
Keycap material: PBT.
Battery Capacity: 3000mAh.
Weight: 950g±10g.
Meet the all-new RS2 mechanical keyboard. A retro-designed 99-key mechanical keyboard with a multimedia volume knob. It supports triple-connection mode including Bluetooth, Wireless 2.4GHz, and Wired USB Type-C connectivity. The keyboard comes equipped with high-quality Gateron G Pro mechanical switches and also features a Hot-Swappable design for easy replacement of the switches. The RS2 has used high-quality dual-toned PBT material keycaps for a smooth and textured finish on the keyboard!!! Upgrade your desk space with the amazing RS2!!
Complete Connectivity with Triple-Connection Modes
The RS2 mechanical keyboard offers you full connectivity where you can connect it with different devices using the latest Bluetooth, Wireless 2.4GHz, and Wired USB Type-C connectivity. The keyboards support a variety of devices including both Mac and Windows operating systems.
Shock-proof Gasket Pro Design
The RS2 mechanical keyboard has a suspension system, and a gasket pro internal structure for shockproof stabilized user operation. The Gasket Pro technology is based on the Gasket technology where the keyboard positioning plate is connected on to the chassis with high-performance support and rebound material. It effectively absorbs the vibrations produced while typing on the keyboard. You get to experience excellent performance with stabilized user operation. The RS2 mechanical keyboard has used a high-quality FR4 glass fiber material positioning plate for smoother operation.
Specially Designed 99-Key Layout with Multimedia Knob
The RS2 mechanical keyboard features an easy-to-use one-turn control multimedia knob. The knob has a unique circular design, it can be used to adjust the volume on the go with ease.
Double shot PBT Keycaps
The RS2 mechanical keyboard comes with double shot processed high-quality PBT keycaps. PBT material is highly consistent in its performance, it doesn't get oily easily and provides long-term wear resistant. The durability of PBT keycaps is much higher than that of ABS material and it doesn't get shiny or slipper at all.
Gateron G Pro Mechanical Switches
The RS2 mechanical keyboard uses newly upgraded Gateron G Pro mechanical switches. It is available in Brown and Red shaft options. Gateron G Pro switches use self-lubricating technology, they deliver a smooth user experience and offer improved durability.
Silencing Padded Structure Design
Using noise-canceling cotton. And shaft pads, the RS2 mechanical keyboard brings a double-layered sound-absorbing silencing structure into the empty spaces inside the keyboard greatly reducing the cavity sound and providing a solid feeling.
Hot-Swappable Design
The RS2 mechanical keyboard features a hot-swappable design. All the switches on the keyboard can be easily replaced by simply pulling the old ones out and pushing the new ones in. It is compatible with both 3-pin and 5-pin switches making the keyboard compatible with most switches available in the market.
High-Capacity Rechargeable Battery
The RS2 mechanical keyboard has featured a large 3000mAh battery on the RS2. It provides an extended battery life of up to 4 weeks on a single charge.
Note: The Beige Keyboard has only one white light effect.
Let customers speak for us
Shipping
Yes, we ship all over the world. For orders total amount over $45, we offer free standard worldwide shipping. We also have expedited shipping.
It depends on where you are. We normally ship the package in 1-2 business days.
For the pre order shipping, the shipping time is different.
The free worldwide standard shipment normally take 10-20 business days to arrive.
The expedited shipping normally takes 5-10 business days.
Delivery details will be provided in your confirmation email.
Other
You can contact us through our contact page! Chat with us!
If we haven't repiled in time, please send us email:support@yunzii.com
We will always be happy to assist you.