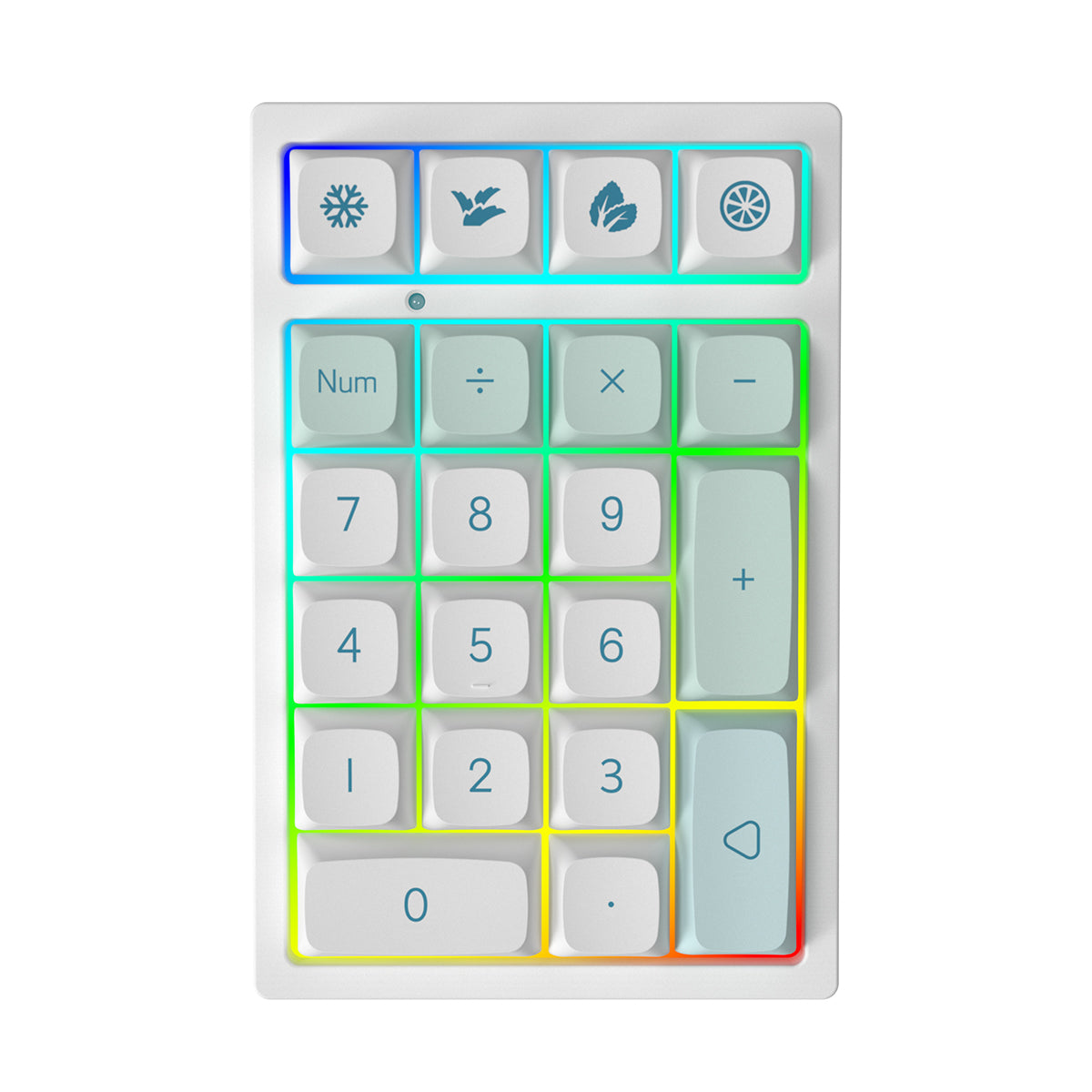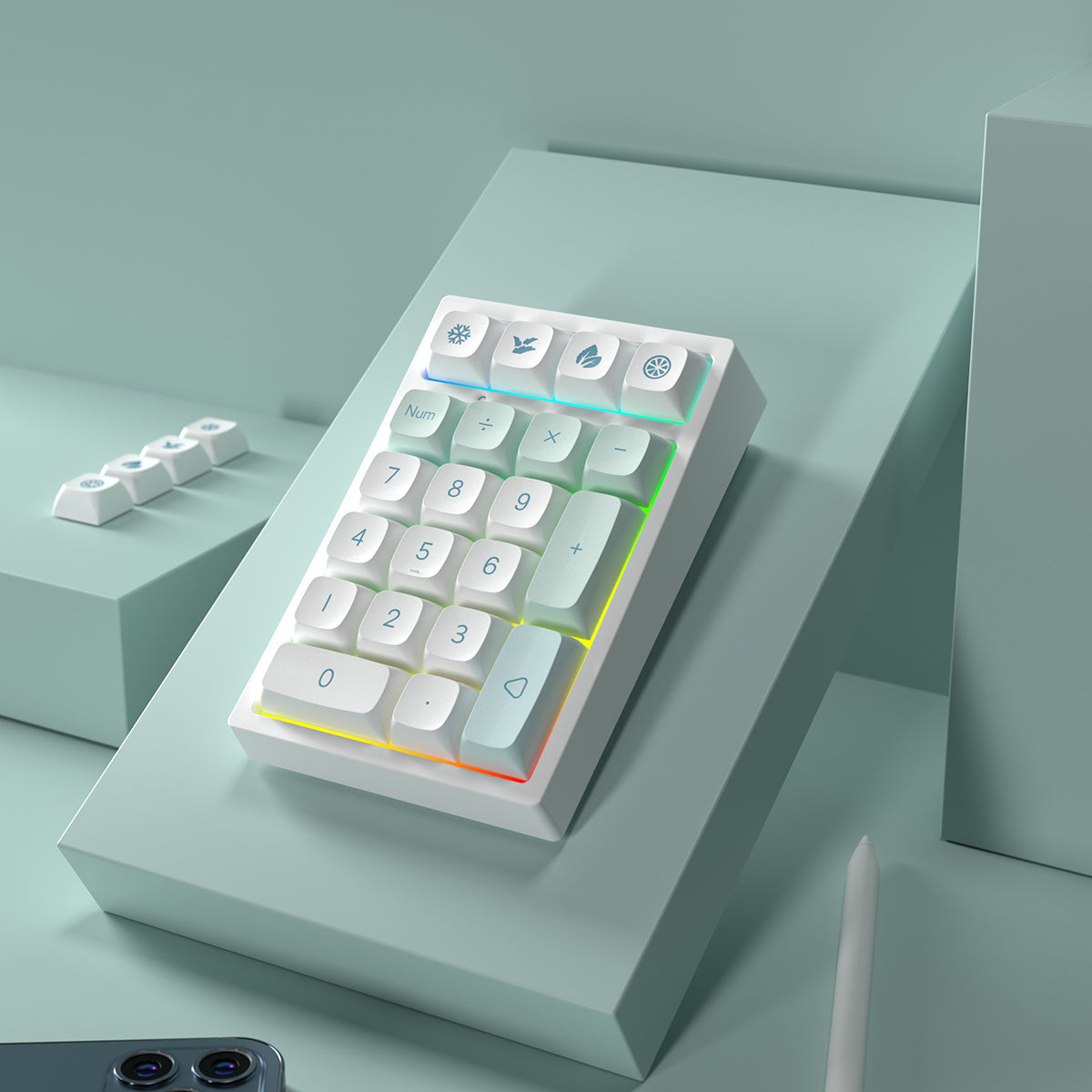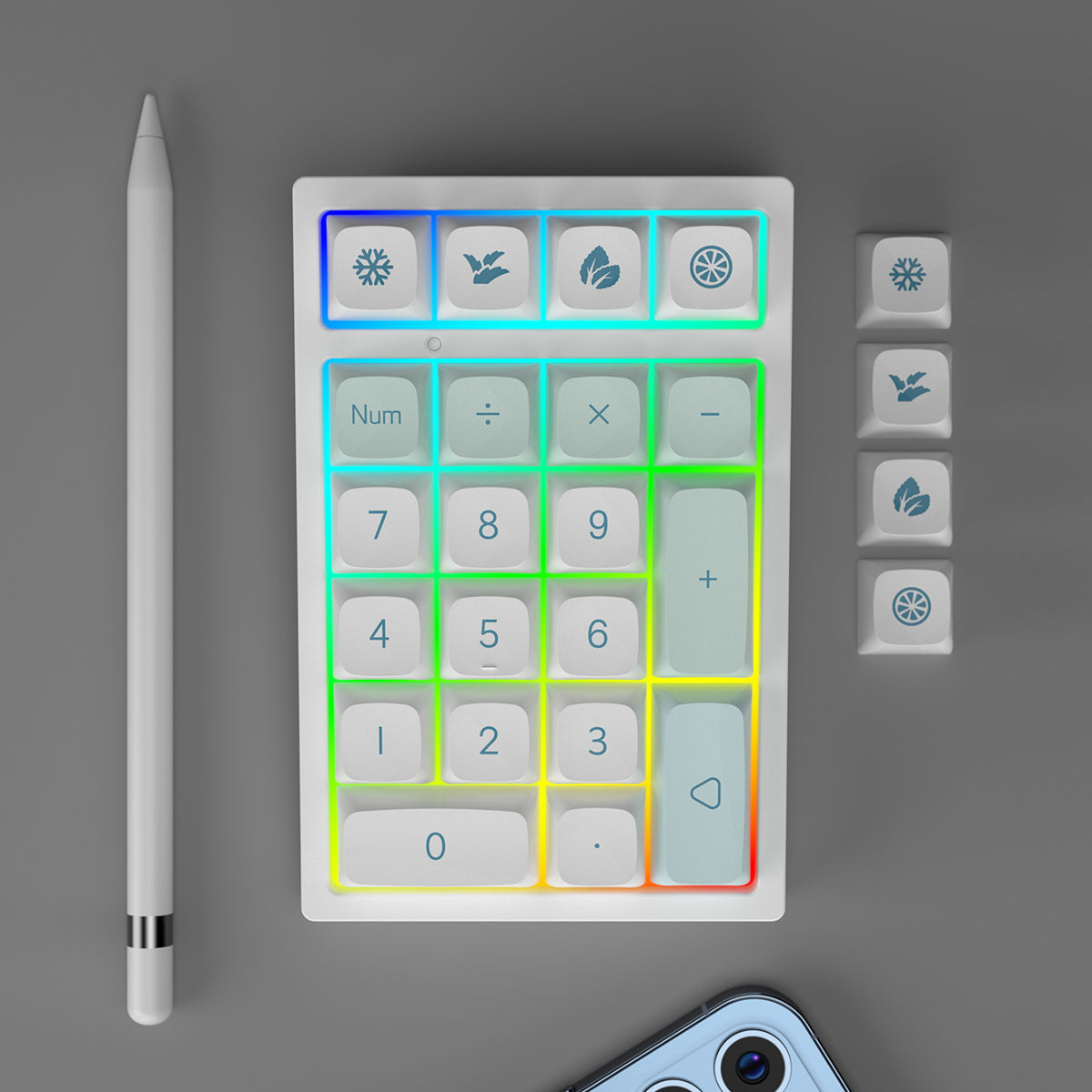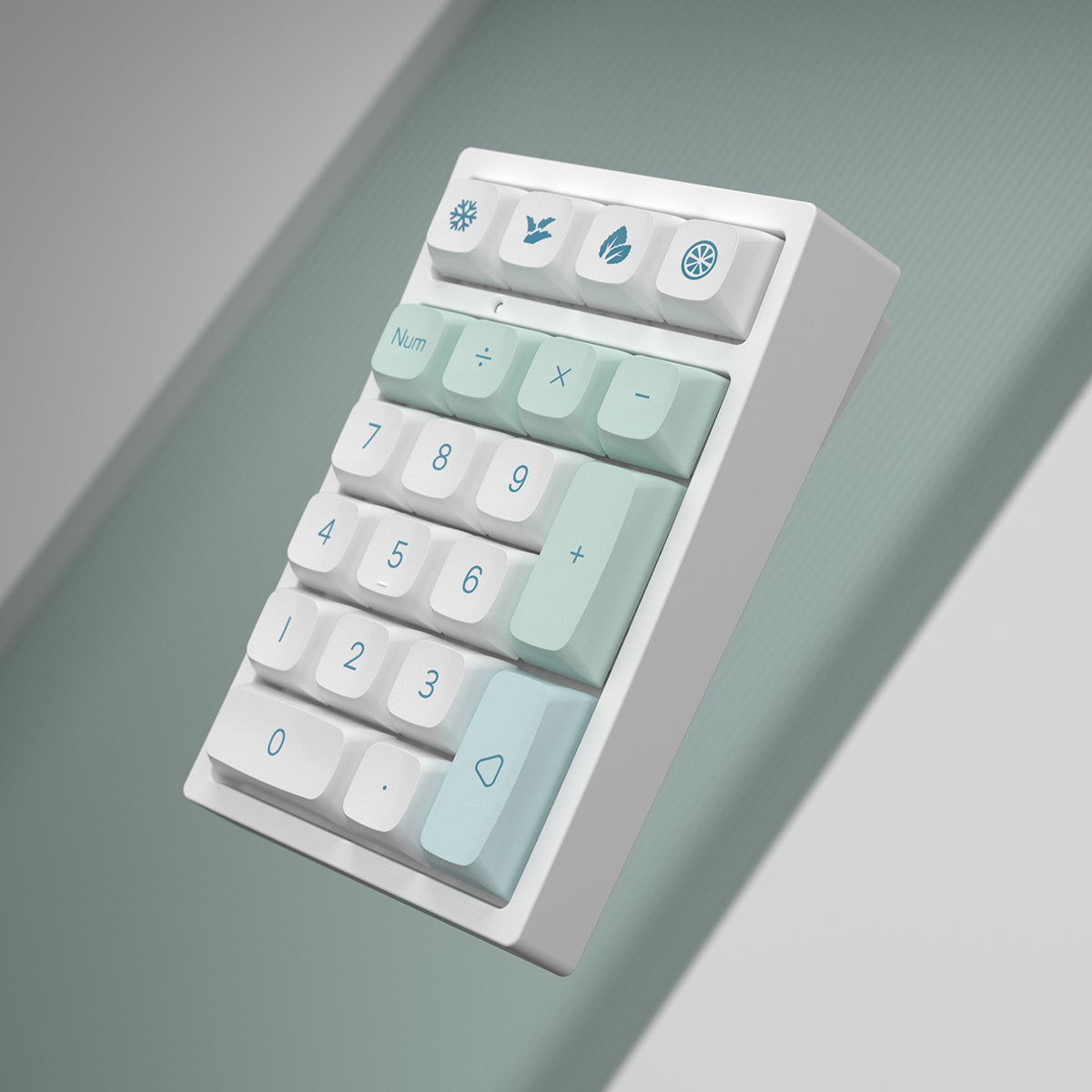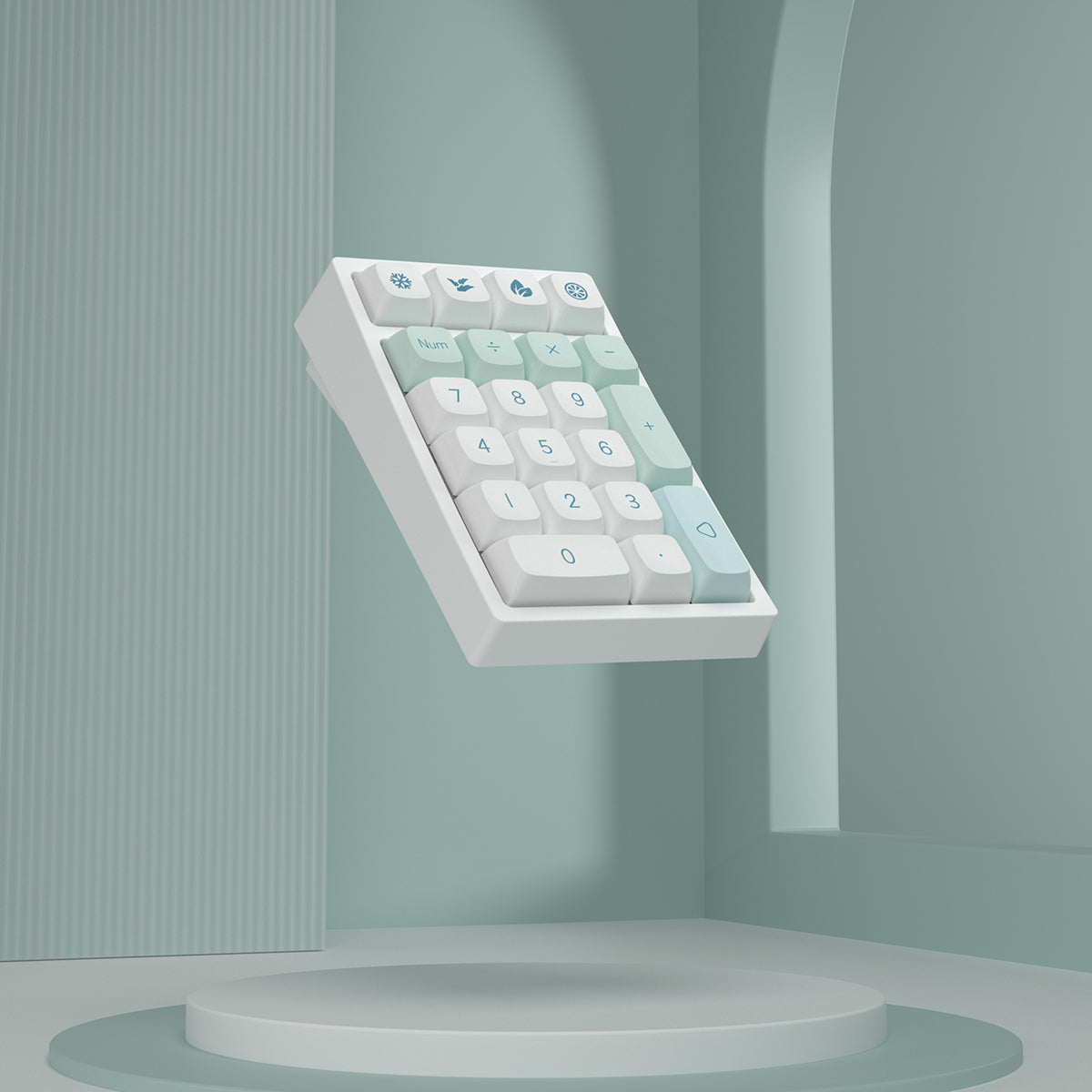 YUNZII YZ21 Mint Hot Swappable Mechanical Numeric Keypad Num Pad
SWITCH:
Gateron G Pro Red Switch
Connection:
Wireless Connection ( 2.4ghz Wireless + Bluetooth + Wired)
CUSTOM HOT SWAPPABLE KEYBOARD
The YZ21 features on the hot-swap capability. Hotswappable Gateron switch of K21 can be easily replaced by other 3 pins or 5 pins hotswap switches without soldering. You can easily customize the keyboard and change out the switches to have a completely different tactile experience.
AESTHETIC AND FUNCTIONAL
The YZ21 number pad for laptop or desktop will enhance the look of your workspace while multiple shortcut keys and macro function allow you to work more efficiently.
MACRO & CUSTOMIZED RGB EFFECTS
The number pad has fully programmable RGB LEDs, 16.8 Million Color combinations. With the custom software, you can customize the RGB effects massive lighting effects and macro setting.
85% PBT DYE SUB KEYCAP
Unique to the YZ21 design is the combination of high quality PBT keycaps and aesthetic design. As to ensure the impressive color scheme and enjoyable typing experience, the YZ21 applies high quality PBT dye-sublimation technology. The keycap is more durable, anti-fade, oil-resistant, and stays true to color longer.
SIMPLE SETUP | WIDE COMPATIBILITY
Simply pair your number keypad via included USB cable and start working efficiently. No fatigue after long term use and 100% full anti-ghosting without conflict. Compatible with Mac, PC,Windows, iOS, Android.
Only Wired connection , come with a keyboard cable.
Can't figure out how to connect using USB dongle and Bluetooth. I've looked at the instructions, but it's still not working. I mostly use it plugged in because of this.
Everything is great!
I received everything not very quickly, but in full, without any complaints. I am satisfied with the quality. Thanks!
Great until…
This was wonderful until the number 8 stopped working. Now I have to buy a new numpad because of a faulty board. I don't have my original invoice number so I'm out of luck.
Nice stock numpad!
I chose the Gateron yellow switches option for this numpad. I love that the stabilizers and switches arrived pre-lubed and sound so smooth and perfect.
I was glad to see that it has onboard memory that remembers my RGB lighting selection. This is great for me because I can also use this with my work devices where I cannot install the driver software. Was also very happy with how easy it was to switch the keycaps. I had also got a keycap set from Yunzii and was able to easily replace the keycaps on this numpad.
The only improvement I would like to see with this numpad is if the case could cover more of the stabilizers or if the stabilizers could be in a different, less noticeable colour than orange. Maybe one that blends with the white base a bit better. I can easily see the stabilizers as I have my numpad placed to the left of me and not in the centre of my vision where they would have been more hidden. Otherwise, I have no complaints with this product!
Love it!
Perfect numeric keypad!! It was a great bundle deal!
Let customers speak for us
Shipping
Yes, we ship all over the world. For orders total amount over $45, we offer free standard worldwide shipping. We also have expedited shipping.
It depends on where you are. We normally ship the package in 1-2 business days.
For the pre order shipping, the shipping time is different.
The free worldwide standard shipment normally take 10-20 business days to arrive.
The expedited shipping normally takes 5-10 business days.
Delivery details will be provided in your confirmation email.
Other
You can contact us through our contact page! Chat with us!
If we haven't repiled in time, please send us email:support@yunzii.com
We will always be happy to assist you.