YUNZII AKKO CS Switches for 3 Pins and 5 Pins Mechanical Keyboards (45 pcs)
Switch:
Vintage White Switch
About AKKO CS Switches
AKKO Custom Series (CS) switches are the newly designed  3-pin switches for customers who have specific typing and gaming needs. Each package has 45 switches.  Six types of switches are available and no matter which kind of typing feeling you want, we cover it all.
Compatibility
AKKO CS switches are designed with a general MX structure so that they can fit most keycaps sets. The switch has 3 pins but also fit in all 3 pins and 5 pins keyboards. Based on the strong compatibility, you can easily change the switch and customize your mechanical keyboard.
Built-in LED Built-in LED Slot 
The AKKO CS switches are equipped with a north-facing LED slot for LED modification. It is also compatible with SMD LED, provides more fun and options for keyboard enthusiasts. 
Durable Lifespan & Improved Performance
With a lifespan of approximately 50 million times of keystrokes, you are assured of high quality and a long lifespan. The CS switches feature a spiral spring design that can make the typing more comfortable.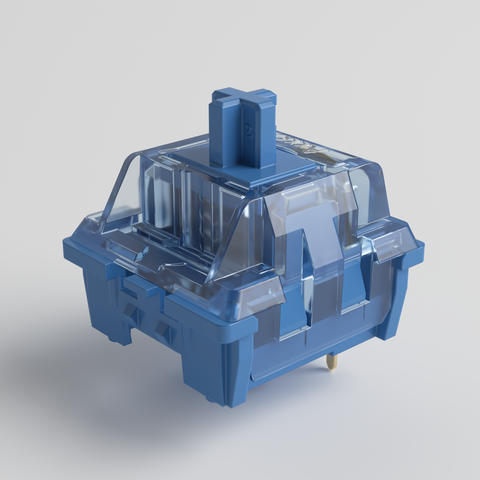 Ocean Blue Tactile Switch
The tactile bump of the Ocean Blue switch is at 0.55mm and it ends at 1.88mm, which gives long-continued feedback. Different from the blue and brown switch, the Ocean blue switch has a medium tactile position that can give you an excellent experience in typing and gaming.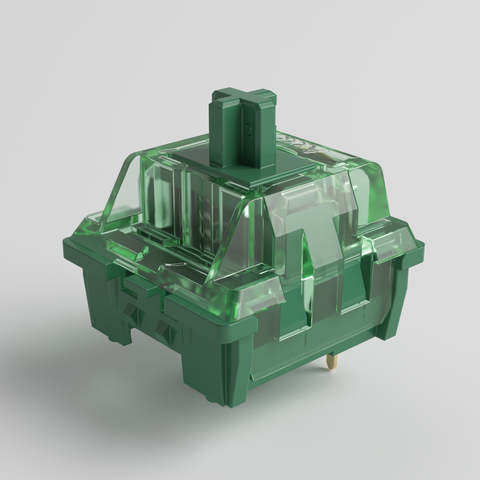 Matcha Green Linear Switch
50gf actuation force, spiral progressive spring. The Matcha Green switch has stronger feedback and a deeper sound than the pink switch and red switch. This linear switch is more suitable for users and gamers users who prefer stronger feedback.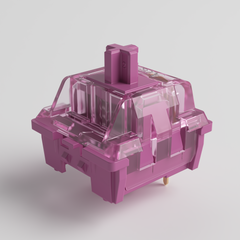 Roes Red Linear Switch
43gf actuation force, 3.5mm total travel, spiral progressive spring, the bottoming is lighter but crisp, feeling comfortable without fatigue. Especially suitable for typewriter, gaming, and long-time typing.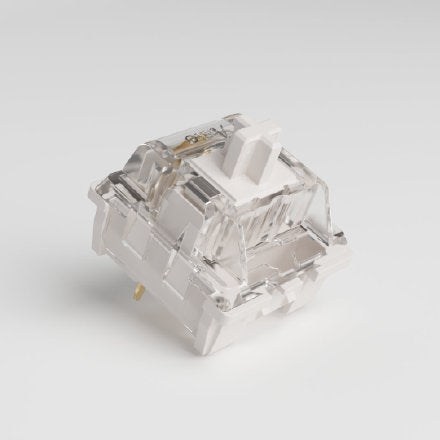 Vintage White Linear Switch
35gf actuation force, 22mm extended spring. The switch is light to the touch yet with strong bottoming, allowing you to easily enjoy the pleasure of typing. Suitable for users who type for a long time.
Radiant Red Linear Switch
53gf actuation force, 3.5mm total travel. Strong feedback is more suitable for game users.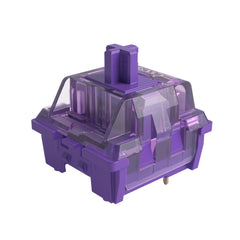 Lavender Purple Tactile Switch
53gf actuation force, 4.0mm total travel. With long paragraph feedback, it's more tactile than the ocean blue switch. Users can fully enjoy the pleasure of typing and gaming.



Never received order
I ordered these switches and never had them delivered, as I'm assuming their 3rd party US courier (OnTrac) either lost or stole the package. Yunzii is no help and just says to contact the courier, who doesn't respond either. OnTrac is notorious for losing packages. I realize it's not their fault, but they shouldn't be working with a shipping service that shamelessly steals or loses packages with no consequences or insurance. I'm not the only one. It's a shame because I like the products, but it's not worth it to buy through this storefront. I'm out $30 for no reason, and neither Yunzii or their courier care. I'd stick to their Amazon storefront if I were you.
Love them!
They sound great stock, especially with xda keycaps not quite thocky or clacky, I think it sounds like "donk" lol
YUNZII AKKO CS Switches for 3 Pins and 5 Pins Mechanical Keyboards (45 pcs)
Great switch for this price
Great switch for this price
Let customers speak for us
Shipping
Yes, we ship all over the world. For orders total amount over $45, we offer free standard worldwide shipping. We also have expedited shipping.
It depends on where you are. We normally ship the package in 1-2 business days.
For the pre order shipping, the shipping time is different.
The free worldwide standard shipment normally take 10-20 business days to arrive.
The expedited shipping normally takes 5-10 business days.
Delivery details will be provided in your confirmation email.
Other
You can contact us through our contact page! Chat with us!
If we haven't repiled in time, please send us email:support@yunzii.com
We will always be happy to assist you.